Captain Mike Flynn, CSC, RAN (also known as CO, Boss and Sir) was the commanding officer of HMAS Hammersley.
Michael Flynn
[[

|250px]]


Name

Michael 'Mike' Flynn

Nickname

Co, Sir, Boss

Gender

Male

Status

Alive

Rank

Lieutenant Commander (Seasons 1-3) Commander (Seasons 4-5) Captain (Season 5)

Position

Commanding Officer

Known Relatives

Kate McGregor (Wife) Ryan White (Son) Dr. Ursula Morrell (girlfriend Season 1))

Portrayed by

First Appearance

Last Appearance
Season One
Edit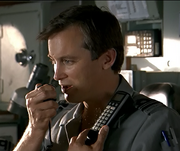 Mike starts the first series of Sea Patrol as a Lieutenant Commander. In 'Welcome Aboard' the Hammersley is tasked with providing assistance to a seriously injured marine biologist on Bright Island. Mike is instantly suspicious, and this cements his interest in the mysteries surrounding Bright Island. Over the course of the series, Mike continues to strive to unearth exactly what is happening on Bright Island, culminating in a joint venture with the Australian Federal Police to apprehend Rick Gallagher and avoid the onsell of a dangerous natural toxin. In the opening episode, it is revealed that Mike has had a previous relationship with Lieutenant Kate McGregor, his new Executive Officer, and this causes friction between the two.
Season Two
Edit
Season Two sees the Mike taking control of the new Armidale class Hammersley as it journeys to the Samaru Islands to rescue Ray Walsman and his team of aid workers. He finds Walsman to be something of an enigma, and as is his way, is determined to understand. Over the course of the series, he becomes disillusioned with Walsman, and is by the end working to ensure he is jailed. Mike meets Capitane du Fregate Josephine Durand, of the French Navy, and finds himself somewhat intimidated by her forwardness, while being obviously jealous of Kate's new boyfriend, SAS Captain Jim Roth. Mike is injured during the coup on the Samaru Islands and is in hospital for several weeks.
Season Three
Edit
In Season Three, Hammersley is tasked with protecting the oil rigs of the North West Shelf Venture and comes in contact with Robsenn Marine, a company who harvests the nearby reef for exotic corals and fish for sale to the public. In the opening episode, Mike must deal with the loss of a member of his own crew when Leading Seaman Josh "ET" Holiday is found dead while doing casual work for Robsenn Marine. Mike and his crew are able to put a stop to a massive oil siphoning operation by the Robsenns, bringing the murderers of ET to justice.
Season Four
Edit
At the end of 'Night of the Long Knives' Mike was promoted from Lieutenant Commander, to Commander, and is posted off the Hammersley to NAVCOM. After the new CO of Hammersley is discharged from the Navy, Mike is temporarily posted back onto the Hammersley. Mike's godson, Ryan, is kidnapped and held hostage while Mike is in command of the Hammersley, meaning Mike has to try and stay impartial.
Season Five
Edit
In Season Five, Mike and the crew of Hammersley are forced to blindly assist a joint operation between ASIO and the SAS to shut down a terrorist cell operating on Australian soil. Mike has an emotional rollercoaster during this series, as he learns that a drunken night 19 years ago with Maxine "Knocker" White means that he is in fact Ryan's father, rather than godfather. This is exacerbated when Ryan, now a midshipman serving on Hammersley goes AWOL after learning this, joining a team of mercenaries and nearly being killed. In the final episode of Sea Patrol. 'One Perfect Day' it is revealed that Mike is eventually promoted to Captain and is transferred back to NAVCOM.
Relationships
Edit
When Mike was running a course at ADFA, he had a brief affair with one of his students, Kate McGregor. They didn't expect to be posted together, so there is a little bit of friction when Kate is first transferred to the Hammersley. They both agree to put the past behind them and continue a professional relationship. After bringing the body of the marine biologist from Bright Island back to the mainland, Mike meets Dr. Ursula Morrell. He is immediately taken by her, and they begin a relationship. It ends when Dr.
Morrell seemingly disappears, and is subsequently placed in witness protection.
In season two, Mike hints at wanting to repursue his relationship with Kate. (ep. Shadow Line.) In season four, Mike and Kate restart their relationship. (ep. Crocodile Tears.) This is threatened an episode later (The Right Stuff) when Mike is posted back onto the
Hammersley
as the temporary CO. During Season Five, Kate breaks it off with Mike, seemingly forever, but in "One Perfect Day" they reveal that neither could imagine marrying anyone else.
In Order of Precedence (when wearing full medals)

< Conspicuous Service Cross (Australia)

< Australian Active Service Medal

< Australian Service Medal

< Defence Force Service Medal

< Australian Defence Medal
In Order of Precedence (when wearing ribbons - continuity error)

< Commendation for Distinguished Service

< Australian Active Service Medal

< Iraq Medal (Australia)

< Defence Force Service Medal

< Australian Defence Medal